🌴 Weekly review: weeks 34 and 35, 2023
September 03, 2023
These two weeks in a GIF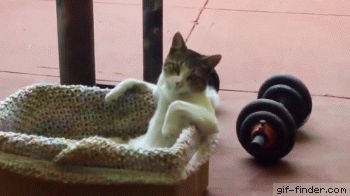 Productivity
I've done nothing.
Health
Key metrics for Week 34:
Worked out 6 days (⇣14.28%):

3x strength training sessions (=).
2x indoor stationary bike (38.1 km, ⇡58%)
2x outdoor runs (21.5 km, ⇣41%)

Sleep: 6h 3 min daily average (⇡27.81%).
Alcohol: 2 drinks (⇡100%).
Key metrics for Week 35:
Worked out 7 days (⇡16.66%):

2x strength training sessions (⇣33.33%).
2x indoor stationary bike (37.1 km total, ⇣2.62%).
1x outdoor cycle (19.7 km, ⇡100%).
3x outdoor runs (24.8 km total, ⇡15.35%).

Sleep: 5h 19min daily average (⇣12.12%).
Alcohol: 2 drinks. (=).
Media
Books:
Series:
Movies:
Questions
What went well these past two weeks?
I've been able to disconnect and relax a lot. It's been a staycation: we haven't gone anywhere, but it's been great for two reasons:
It feels great to be able to disconnect and relax right where you live: shifting focus and changing sceneries is also great to relax, but sometimes you come back to both work and home and get immediately hit by the same feelings you left behind at the begginging of the vacation. This separates both things, which helps for the second reason.
It's a great way to figure out what you want your daily routine to be: I kept more or less the same schedule as during a regular workweek, but allowing for daydreaming and having deep conversations with my partner on what we want our daily routine to be like moving forward. It's been great to figure out what we want to do, and what we don't want to do.
Knowing this, we were able to set some daily temporal landmarks to align our intentions with our actions, and experiment with that routine already without the pressure of work and performance.
What could be improved?
Nothing.
What are the goals for next week?
Get up to speed with work.
Start Q4 planning (I can't believe it's September already): draft high-level goals, start collecting thoughts and feedback.
Launch Carpeta (you can see the progress here).
If you have any feedback, thoughts, or questions, feel free to contact me on Twitter.